AR no.134 | Spaced Plaid Coat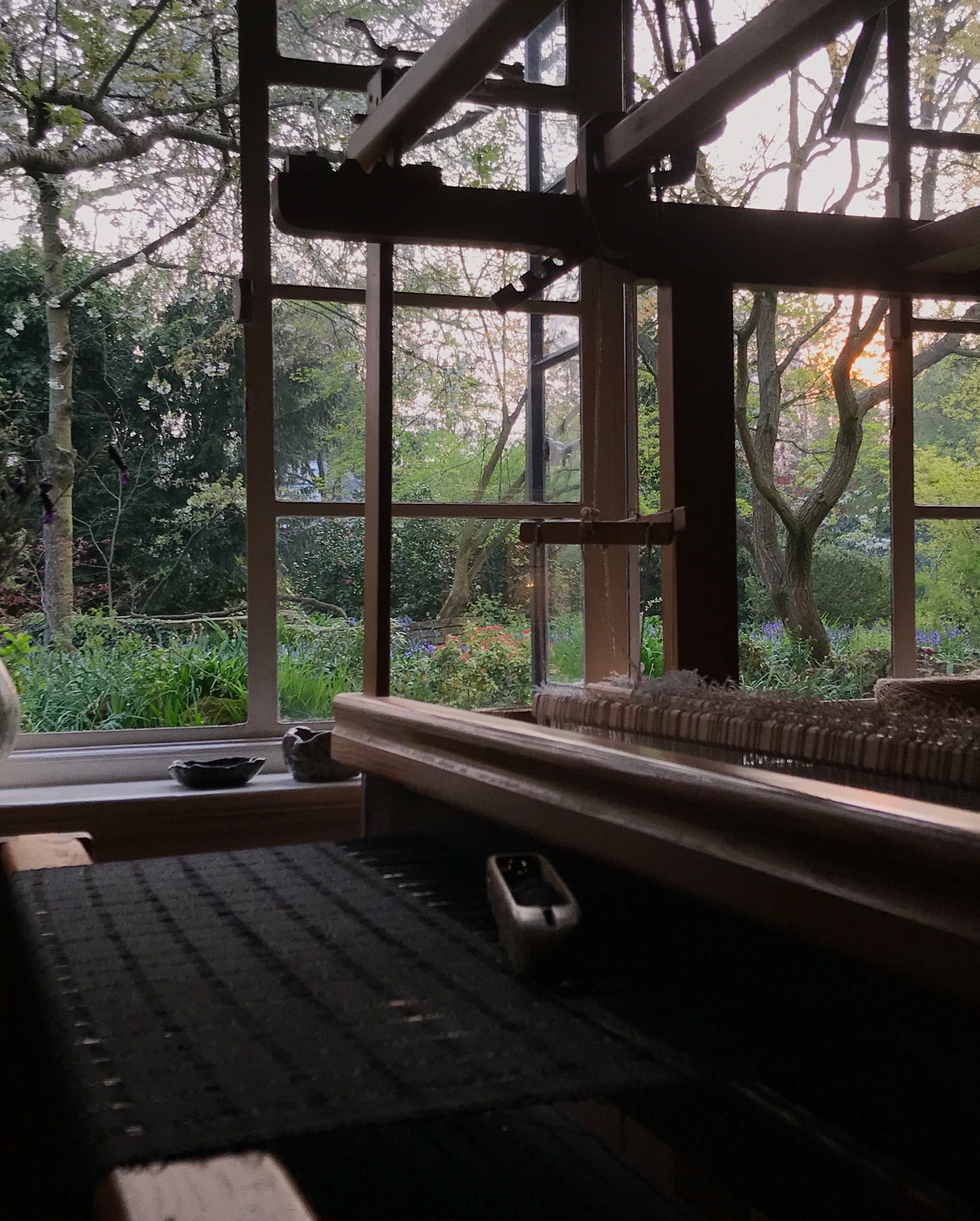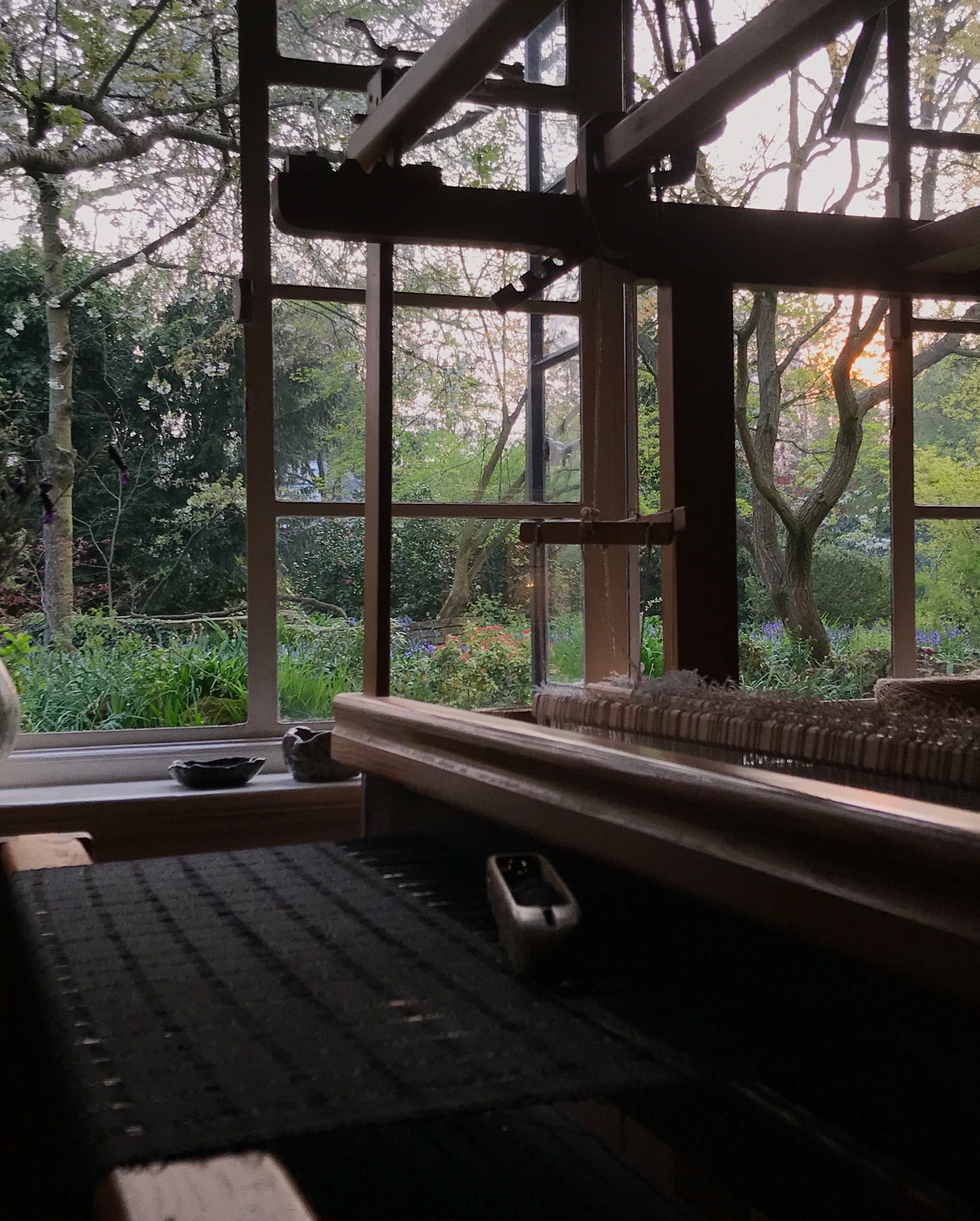 AR no.134 | Spaced Plaid Coat
A mid-length coat that plays with concealing and revealing, built in a way that resembles lace, with spaced plaids forming a subtle grid throughout the piece. I wove the textile in a way that creates plaids by moving slowly through the threads whilst weaving, creating spaces in the warp and weft as I work.
This piece is built for wrapping in, moving in, layering in. It is built from thread to textile to garment in my London garden studio — handwoven, hand stitched, one of a kind, signed and numbered. Each coat is a 'remnant of an act'.
To make this piece, I first begin with making the textile, which is the process of spinning the fiber, then to preparing it for my loom, weaving it line by line into a textile. After listening to the material and finding what it wants, I then carve it into a one-off coat.
The yarn for this piece is from sumi ink-dyed matte silk. This unusual yarn was handspun and dyed for me in Japan, arriving to my studio in the form of a cone, where I wind and braid it into a warp. I love working with this material as it has character, volume, and depth. It is like weaving with udon noodle-shaped thread — quite strong, flattened, and wide, giving a basket-weave appearance to the woven surface. Each flattened silk thread is actually comprised of about a dozen tiny silk threads. They are flattened and pressed together using a viscose coating that washes away once the woven textile is introduced to water. The textile will grow softer and softer over time, resembling linen perhaps more than silk to the touch and to the eye. The textile's color is dyed using sumi ink, resulting in a charcoal-grey-blue, varying in shade depending on the light. When wearing it outside, darker bands of grey next to deeper bands of blue become apparent. Whilst weaving this material, I let the textile breathe and introduce itself to me as I work.
On the coat's selvedge edges, which can be seen on the centre front, back spine, and sleeves, there is a subtle shift in colour, from charcoal grey to a faded mauve. I highlight the selvedge on a handwoven textile wherever possible on a piece, as this edge is evidence of the hand. It serves as a recording of pace, time, and even temperament during the time the textile was made. The coat is unlined and therefore handwork can be seen on every seam, and I feel it keeps the coat cooler and provides a further sculptural feeling of weightlessness. This coat's wrap collar is meant for play — it can be folded over into a shawl collar, it can also be simply turned under at the neckline for a more minimalist approach. It can also be wrapped across the body for full coverage, closed with the tie of a belt.
Dimensions & Additional Information:
Women's Coat (although could be unisex)
Coat's length, from top of shoulder to bottom hem: 89 CM / 35 IN
Coat's Arm length, from back spine to wrist bone: 86 CM / 34 IN
The body of this coat is cut quite square and wide, fitting most sizes and shapes in a relaxed, draped way, with volume to move and flow. The sleeve is slightly tapered at the wrist to offset the body's volume.
There are no pockets on this piece as the textile is so fine. I decided to keep it as weightless as possible. To clean, dry clean when needed or hand wash in luke warm water using delicate soap. Rinse and roll access water; lay flat to dry. This piece loves to be steamed or ironed, or you can leave it to naturally crinkle as you travel and wear.
This piece has an inherent fragility as the space plaid is a looser weave. The spacings are permanently set into place after washing, but by nature is more delicate than a traditional textile piece. If it snags, a simple pulling of a thread back into place should do the trick. (I am also happy to help with any repairs needed over the years.)
The woven skirt with the coat in photographs is also available. Please feel free to write with any additional questions.
This piece is one of a kind, comes signed and wrapped in an archival box with special packaging. International tracked shipping included.